Botox® (Botulinum Toxin Type A)
Facial wrinkles may occur when the underlying muscles are used for facial expression. Typically vertical lines appear between the brow when we are frowning, concentrating, perplexed or tired. Other lines such as laughter lines form around the outer edges of the eye when we smile or grimace. These lines are called dynamic lines and when younger, the skin springs back to its smooth rested state when we stop using these muscles.
When the quality of the skin deteriorates with age, those lines often become static lines and they are still present even when are not actively using the muscles.
Photos of areas in which Botox® is most commonly used for.
Frown
Forehead
Periorbital – Crows Feet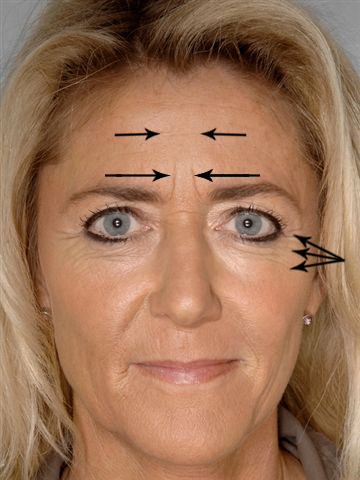 Compliance
Due to NZ Medical Council policy constraints, we are prohibited from displaying BEFORE and AFTER photos on our website. 
However, you can find a selection of images on Google Images if you wish.